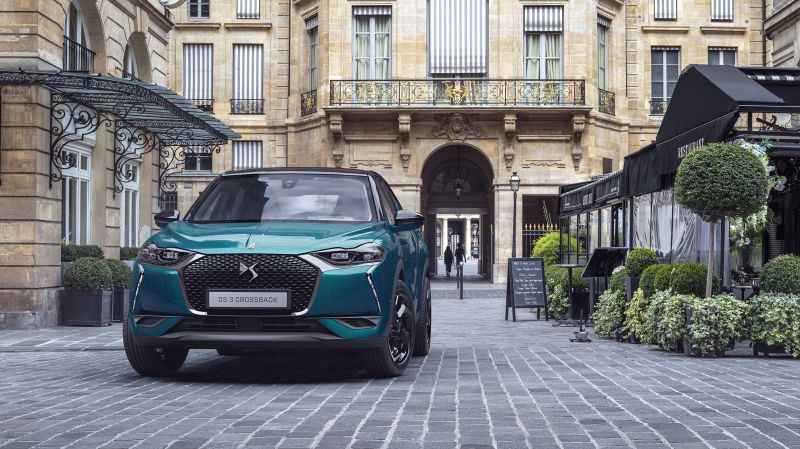 Posted: 5th, July, 2019
WOW… The new DS 3 CROSSBACK arrives at Telfords!
'Common Modular Platform' (CMP) DS 3 CROSSBACK brings new levels of packaging, ride comfort and handling
Availble in Petrol, Diesel or E-TENSE (BEV) power units
A range of trim level choices includes the Launch Edition highly-specified model – La Premiere
Initially there is a choice of 15 models ranging in price from £21,550 to £33,950
DS 3 CROSSBACK is a 'Premium B SUV' that arrives in May with distinctive sculptural styling and exceptional proportions, initially available with the choice of Petrol or Diesel Internal Combustion Engines (ICE) or later in 2019 with 'E-TENSE' (as a BEV – Battery Electric Vehicle).
Built on Groupe PSA's all-new 'Common Modular Platform' (CMP) that combines exclusive technologies and takes refinement to a new level. DS 3 CROSSBACK is both a city car and a long-distance road car. Pushing conventions aside, it opts for spectacular technologies including DS MATRIX LED VISION headlights, flush door handles that deploy automatically and a fully-digital driving display. These advanced features go hand in hand with a sense of refined comfort, a rich array of safety equipment and driver assistance functions and unequalled acoustic excellence. Powerful and sculptural, DS 3 CROSSBACK is for all those looking for a car with instant appeal that is stylish, high-tech, comfortable and dynamic.
POWERFUL, SCULPTURAL DESIGN ...
"Viewed from the side or the rear, DS 3 CROSSBACK is a vehicle of perfect proportions with its large wheels, well-proportioned length and strong on-road stance. From first glance, you can see that it is unlike other cars. Simple, sculptural lines expressing performance and strength, enhanced by a bewitching light signature." This is how Thierry Metroz, DS Design Director, describes the new model by DS Automobiles.
DS 3 CROSSBACK is identifiable at first glance as a premium, compact SUV, with its moderate length of 4.12m, broad on-road stance and large wheels (690mm, 18'') and raised ground clearance.
At the front, the DS WINGS form a finely chiselled setting for the sculpted, vertical lines of the emblematic DS grille. The DRLs (Daytime Running Lights) with their pearl-like vertical LEDs and the tapered headlights of the DS MATRIX LED VISION system suggest a contemporary edge and performance. An impression reinforced by the wide ribbed horizontal bonnet.
Attention-to-detail is a hallmark of the DS brand and is visible everywhere, starting with the vehicle exterior:
the non-visible weather-strip seals,
the elegant flush-fitting door handles,
the roof line is clean, with no visible aerial antenna,
the roof and body in contrasting colours,
the iconic side shark fin,
and chrome-finished twin tailpipes on ICE engine models
The rear sits squarely on the road, its broad, powerful shoulders striking an evocative note of imposing style. It is also elegant with a high-tech rear LED light signature complemented by a surround that in the centre references the CROSSBACK name.
DS 3 CROSSBACK hosts a range of technologically advanced features that will ensure unique USPs and desire for the product in the Premium B SUV sector.
FLUSH-FITTING DOOR HANDLES
The folding flush-fitting door handles are both elegant and modern. Premiered at the start of the summer on the DS X E-Tense Dream Car, this exclusive technology is new to this sector. The principle is simple: the door handles are available to users when required. The rest of the time, they fold flush into the vehicle sides. Moreover, with Proximity Keyless Entry and Start, the magic takes place as the key holder approaches the car. Within a radius of 1.5 metres, the car unlocks and the four handles deploy automatically so the driver and passengers simply get in and drive away. Similarly, the door handles retract and the vehicle locks automatically as they walk away from it.
DS MATRIX LED VISION HEADLAMPS
This new headlight system, equipped with Matrix Beam technology, offers the driver optimum lighting and allows them to drive with full beam headlights without ever dazzling other road users. These latest generation headlights automatically adapt their light beams according to the traffic conditions, to maintain optimum lighting for the driver.
The Matrix Beam module consists of independent segments, which come on and go out gradually, segment by segment, depending on the driving conditions detected by the camera at the top of the windscreen.

DS DRIVE ASSIST
This system combines the new Active Cruise Control and the Lane Keeping Assist to manage driving in semi-autonomous mode, in specific conditions. The vehicle manages steering and speed.
DS DRIVE ASSIST is active at speeds between 40mph and 110mph (if/where the law permits).
The ultimate aspect of the personalisation process is expressed with five 'DS Inspirations':
DS MONTMARTRE, DS BASTILLE, DS PERFORMANCE Line, DS RIVOLI, DS OPERA and for the ultimate expression with La Première limited edition. These Inspirations mix and match colours and materials inside and outside the car, to meet individual tastes and requirements.
The Inspirations set their stamp on the interior styling for a chic, modern result, featuring grained or full-grain Nappa leather with an 'Art Leather' finish, top-stitching in a pearl or diamond pattern, braided textiles, Alcantara®, a steering wheel fully upholstered in full-grain leather including the airbag cushion and chrome trim features with a Paris Hobnail guilloche design.
On the outside, the Inspirations add specific notes of detail such as the signatures on the bonnet and lower doors or the chrome trim features at the front and at the rear with a gloss, satin or textured shimmering black finish.
Attention-to-detail for a sense of extreme refinement
The coherent approach of DS interior design is also visible in the central console, inherited from DS 7 CROSSBACK. This elegant, stylish central console with its gearbox controls, toggle switches and electric handbrake also meets day-to-day passenger needs, with a smartphone charging pad, an array of storage compartments including cup holders, and a broad, functional sliding armrest.
Illustrating this attention-to-detail, the original DS signature and brand emblem is present as a key theme and influence on many interior style features: the spectacular central fascia with its touch controls, the central and side air vents (built into the doors), the screen scenography, etc.
SENSORY COMFORT
With DS 3 CROSSBACK, occupants enjoy a level of comfort worthy of vehicles that occupy upper segments of the market. Comfort clearly starts with the seats. The body-hugging driver and passenger seats feature innovative bi-density foam for greater quality, without forgetting the electric control and heating functions. When the vehicle starts moving, the excellent NVH (noise, vibration and harshness) isolation provides high levels of comfort from the new platform of DS 3 CROSSBACK.
For more information or to arrange a test drive call Telfords DS on 01228 545486.